Gorgeous Oceanfront Villa with Panoramic Views!
1500 sq. ft. · 2 bedrooms · 3 beds · 2 baths
Occupancy - 6 guests, no exceptions
Pack your bags for a luxurious getaway at this exclusive oceanfront villa. The 2-bedroom, 2-bath Avalon vacation rental – set in the prestigious Hamilton Cove on Catalina Island – boasts beautiful panoramic waterfront views from every room, a private patio to enjoy the sounds of crashing waves, a well-decorated interior, custom Catalina tiling, and a full kitchen. Revel in the high-end accommodations and access to the heated on-site pool/spa, pristine beach, sand volleyball, and tennis courts!
All amenities subject to availability.
For info on Traveling to Catalina Island, Luggage Storage & Delivery, Taxis and more, visit our Travel to Catalina page.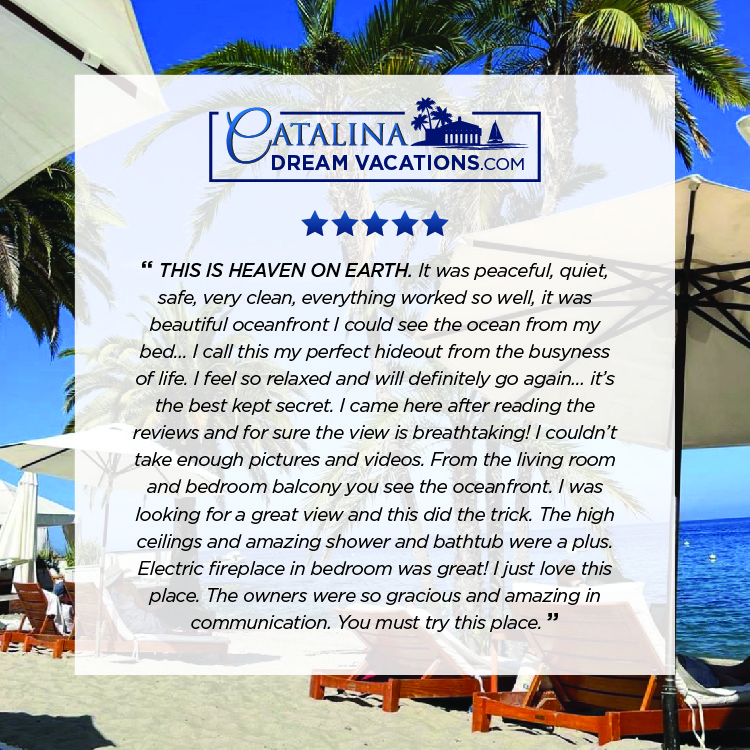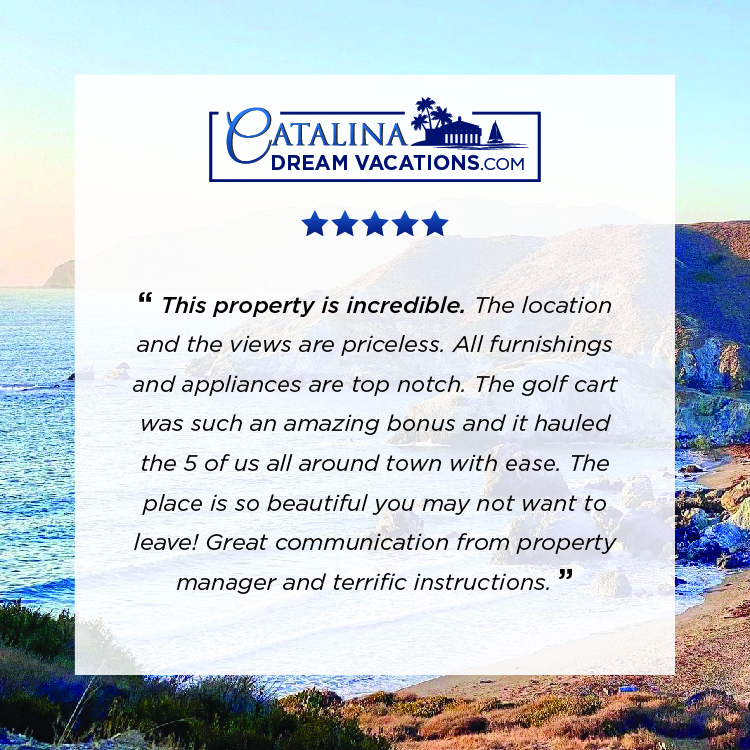 "Just perfect! Such a lovely villa, we loved everything about it. From the cozy beds, to the well stocked kitchen, to the comfy couch and of course to the beautiful view. We will be back!"
"Perfect Girls Weekend. We had a great weekend. Loved the place and location. Packed so much in a short weekend. Thank you!!"
"The location was great and the views were spectacular! Wine and cheese on the balcony was a highlight. The villa was a cute, beach vibe and very comfortable for our family. We miss those sunrises already."
"This was a girls trip, and I was thrilled when we arrived to see that the description of this unit was exactly what we had expected. The decor and the views were amazing. Having coffee every morning on the patio taking in the gorgeous sunrise. Great location, just steps away from the pool. Having the golf cart was a great addition. The manager was very responsive when we had any questions and was truly concerned that we were taken care of. Definitely will be returning."
"From checking in to checking out Amber was a great communicator. The property was well described and we were in need of not a single addition. Look forward to using again!"
"The property was stunning. We would love to go back every year."
"I have stayed in Hamilton cove at least 10 times over the last 15 years and this property had one of the best views and longest balcony. We enjoyed perfect sunrises and sunsets with great views of the ocean and Palos Verdes Peninsula in the distance. Definitely will return again."
Master Bedroom: California King Bed | Bedroom 2: Queen Bed | Additional Sleeping: 2 Aerobeds (Available Upon Request). 
Maximum 6 guests.
Set 26 miles and a world away from Los Angeles, this luxury villa transports the essence of a Grecian island or the Italian Riviera to the coastal beauty of Catalina Island. Panoramic ocean views welcome you to this wonderfully decorated and specious luxury villa.
From the moment you step into the exceptionally decorated foyer with vaulted ceilings, the old-school Catalina charm and vintage style will perfectly compliment stunning outlooks of the hillside and the dazzling unobstructed ocean vistas visible from every room. Breathtaking Pacific views command your attention through several sets of large french doors which open to an expansive patio – the largest patio Hamilton Cove has to offer!
Open the glass doors to bask in the sounds of the ocean waves crash on the beach as you unwind in the vibrant living room set under the wooden cathedral ceiling. Use the 65-inch Smart TV to continue the relaxation in the spacious-yet-cozy living area. The huge, private patio is the ideal spot to admire your breathtaking surroundings and luxurious home-away-from-home.
Tiled floors featuring Catalina tiles, and elegantly carved wooden details furnish the fully equipped, galley-style kitchen with classy Catalina charm. Tile-topped counters and a pass-through window allow you to entertain in style. If you'd rather treat yourself to a night out, head over to one of the restaurants just 5 minutes away.
Step outside to the private patio and bask in the fresh air as you sip a refreshing beverage and admire the panoramic ocean vista. The expansive patio has 2 sets of outdoor furniture hat make for the perfect memorable outdoor dining experience while viewing the gorgeous sparkling blue pacific ocean and California coast.
As the night settles around you, retire to one of the 2 well-appointed bedrooms. You'll want to claim the master bedroom as your own so that you can enjoy private access to the terrace for stunning sunrises over the water! Along with a mock fireplace, a 50-inch Smart TV, and brand new Pottery Barn furniture and bedding, the expansive master suite boasts a walk-in closet and en-suite bathroom with dual vanity and tiled shower. The sound of the waves crashing on the shore will lull you to sleep in either bedroom, and you'll wake refreshed and ready for another rejuvenating day.
This exceptional unit boasts an excellent location in Hamilton Cove Villas, so you can enjoy easy access to the lovely clubhouse (subject to availability), gym, oceanfront pool, spa, private beach, private dock, play area, basketball, tennis, and croquet courts, and the 18-hole golf course.
Amenities include a spacious fully equipped kitchen with Catalina tiles & a top-of-the-line stainless steel stove, the kitchen is fully stocked with new pots, pans, dishes, Crock-Pot, etc., private balcony with 360-degree views (one of the largest balconies in Hamilton Cove) w/ brand new patio furniture, Catalina tile accents, cathedral ceilings, ocean views from every room, 2 65-inch flat-screen Smart TVs, free WiFi, brand new gas grill, new kitchen dishware/cookware, new electric stove, designated parking spot, brand new 6-seat golf cart, brand new carpet, game collection (Monopoly, Jenga, Sorry, Uno), and more
Master suite amenities include Pottery Barn furniture and bedding, ocean views, a mock fireplace, en-suite bathroom, 65-inch flat-screen Smart TV, and more
Hamilton Cove Luxury Villas community amenities include access to the beach, picnic areas, putting course, outdoor heated pool, tennis courts, clubhouse, fitness center, spa, croquet course, piers, beach volleyball areas, and more
Spectacular Catalina Island location – Just 1 mile to Descanso Beach Club and easy access to top Avalon attractions! Within walking distance of shops, cafes, galleries, docks and the Avalon Theater on Casino Point
This property is accessible via boat (Catalina Express) or helicopter
Nearest Major Airport: John Wayne Airport – This airport is located on the mainland and to get to Catalina Island use a boat or helicopter
All amenities subject to availability.